Seo Tools Save Time and Effort
It's no secret that the best way to increase organic traffic is through writing targeted copy using proper search engine optimization techniques. The good news is that we have several seo tools in the market today, that make content writing easy. These seo tools help us:
find the right keywords
write targeted copy
increase conversions by split testing our copy to see which version is most effective
write the right metadata and description
track down any content that has been plagiarized from our site
The seo tools that I'm sharing with you are indispensable to me as a content creator and will help you in any web writing: whether you are writing copy for a large corporate site; or creating content for a blog post.
#1. Google's Keyword Tool
Google's keyword tool is the best keyword research tool on the market and it's free! The Google keyword tool is indispensable for helping writers in their content writing strategies. You can research the number of global and local searches for a particular keyword. Google Keyword tool also allows you to see how competitive the keyword is. Generally speaking, the rule is to go for reasonably popular keywords with lower competition.
The Google keyword tool is #1 on my list because proper seo strategies always begin with good keyword research.
#2. Google Insights
Google Insights for Search provides insights into the search terms people have been entering into the Google search engine. Google Insights is similar to Google Trends, but unlike Google Trends, Google Insights also provides a visual representation of regional interest on a country's map. It displays top searches and rising searches that may help with keyword research. Results can be narrowed down with categories that are displayed for each search term.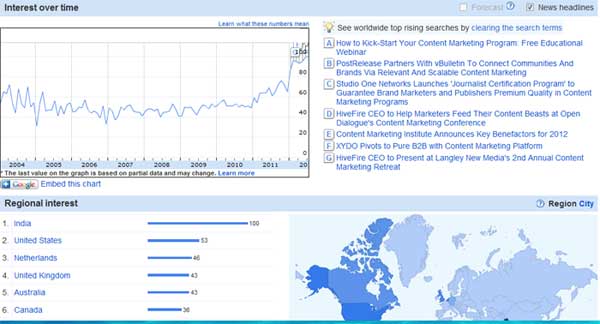 Google Insights showing an increase in search for "content marketing" and top regional searches
#3. Inbound Writer
I have to say this is one tool that I absolutely love and should be part of any seo writer's tool kit. Once you put in your copy, Inbound Writer will tell you how many points you score from 1 to 100 with a nifty speedometer! (I love the graphical depiction of how low my score can be at times!). Based on your topic, Inbound Writer will research the internet, researching thousands of related articles, posts and info and come up with the best terms for your document. If there's one tool, I would recommend, it's this one. The first 8 articles per month are free after which you need to pay.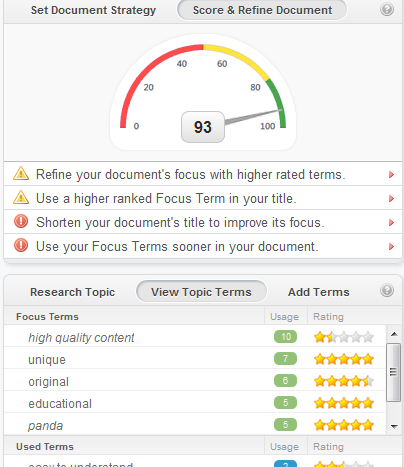 Inbound Writer's speedometer showing you all you need to do to write targeted copy
#4. Google Optimizer
Google Optimizer is a great site testing and optimization tool. It allows you to increase the value of your existing websites and traffic, as you can test your site content and design. You can show several versions of a page to different visitors. Google Analytics measures the efficacy of each page version, and with a new advanced statistical engine, it determines the most effective version. If the user performs the action you want them to perform you know that you have hit upon your winning version of the page. Google Optimizer is especially great for landing pages and checking the conversion rates of one page over another. It's very effective in determining which copy works better.
Video instructions on how to use Google Optimizer for split testing your copy
As of August 2012, Google Optimizer will be integrated with Google Analytics as Content Experiments, which brings website testing to Google Analytics. Google says that integrating Google Optimizer into Google Analytics will greatly enhance and improve your analytics capabilities. Content Experiments helps you optimize for goals you have already defined in your Google Analytics account, and can help you decide which page designs, layouts and content are most effective.
#5. Market Samurai
Market Samurai saves you a huge amount of time with market research. The workflow behind Market Samurai is that you use the filters to cull your keyword list down to a small number of keywords, and analyze those to find the keyword(s) that have the weakest competition… And then work with those keywords.
Market Samurai helps you:
find marketable keywords that have a low competition
find content in related articles
learn if what you plan to write has already been extensively covered elsewhere
link to relevant articles
schedule and publish content straight to your blog
Market Samurai is a paid tool but unlike other seo tools that are unaffordable, Market Samurai has a one-time payment of $149. The features that I frequently use are Rank Tracker, checking your seo competition, the content and back-link finder.
#6. All in One Seo Pack for WordPress
There are many seo related plugins for WordPress, the latest being WordPress SEO by Yoast which I've yet to try although currently it has a great reputation. I use All in One Seo Pack. You can write your metadata, title, keywords and description. It's the ONLY plugin to provide SEO Integration for WP e-Commerce sites.
#7. Copyscape
Copyscape is a plagiarism checker. It checks to see if anyone has been stealing your content and is a good idea in these times when duplicate content is a big no-no and is being penalized by Google.
Which tools do you find indispensable in your content writing process? Please share in the comments below.
You May Also Like:
Google Gets Picky over Content with Panda
How to Write Quality Content that is Search Engine Friendly
10 Free Seo Tools